Shades Hair hairdressers is a professional and friendly local hair salon providing great value services for everyone in Purley and Coulsdon.
Whether it's a hair cut, women's hair, men's hair, kids' hair, wedding hair, special occasion hair, prom hair, hair colour, colour correction, blow dries, precision cuts, restyles, up do's – our team of experienced stylists listen to what you want, give you advice then use their expertise to deliver great looking hair. Shades Hair has been your local hairdresser in Purley and Coulsdon since 1982.

Welcome to Shades Hair
UPDATE: We're devastated we've had to close again due to Covid restrictions, but we'll be ready to welcome you when we can. Keep safe.
We are so happy to welcome you to Shades Hair Salon and we're excited to get our hands on your hair!
We work hard to keep you and our team safe during your visit to our hair salon – it's our top priority.
We follow all the guidelines – and more – so you'll see a few changes ... including a new look to our decor, which you may have seen on our social.
The past months have been tough for everyone, and we've heard from so many of you that you're craving the mood boost of a hair appointment with us.
We can't wait to see you too – we're a small independent hair salon built up over many years and many of you are like family to us.
Call us on 020 8668 3920 NOW to book your appointment.
What's New at Shades Hair
We take extra health and safety measures, making changes to how we look after you and your hair:
All appointments must be pre-booked. We'll talk you through what to expect during your visit.
Please arrive on time and alone. Appointments are strictly spaced so there are fewer people in the salon.
Please wear a mask. Our team wears Personal Protective Equipment and will work around your mask.
Please bring your own drink and something to read. Sadly, we are unable to offer refreshments and magazines.
Our team follows strict hygiene guidelines. Please wash your hands and use sanitiser as often as you need.
Every styling station is sanitised after each use. Please use the personal rubbish bag provided.
Please pay by card (contactless) if you can. We sanitise the card machine after each use.
Get ready to embrace the 'new normal' with us!
Call us on 020 8668 3920 NOW to book your appointment.
Colour stories

With Keune Colour, our professional colour range, we have everything we need to create beautiful hair for you.
With rich, creamy formulas, every colour, lifting powder and developer performs to perfection without compromising hair health. Silk Protein works to protect the scalp and keep hair looking its best.
And if you just happen to have 'Lockdown Hair', we'll help bring back your marvellous mane to its beautiful, glossy, gorgeous best.
See Shades Hair colour services and prices here.
Call us on 020 8668 3920, or message us NOW to find out more.
Save your style

Are you living in a hat? Or making a pony tail your go-to style?
Do you have a wayward fringe in your eyes, straggly ends, and a shape that's all but slipped away?

We're here to bring your hair back to style.
Because as we always say:
Life isn't perfect, but your hair can be!
See Shades Hair cut and finish services and prices here.
Call us on 020 8668 3920, or message us NOW to find out more.
A Message from Ruth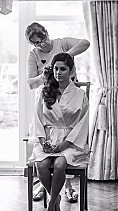 A message from Shades Hair founder, Ruth Langford
Shades Hair has been providing hair services to our local community from Purley, Kenley, Caterham, Coulsdon and further afield since 1982. We love to welcome new clients and we're proud to have clients who've grown up with us, bringing their children – and even their grandchildren! – to have their hair cared for by our team.
In all these years, I thought we'd seen everything! This is a new experience, for you and for us. To look after you and our team there are some changes to the way we work, but we're always committed to giving you the very best hair experience.
We'll keep you updated here, or visit the Shades Hair Purley facebook page regularly for the latest salon news, or just to say hello.
I can't wait to see you. Thank you so much for your support.
Tyrone Lawless at Shades Hair

Tyrone Lawless Artistic Hair Design at Shades Hair

Shades Hair Salon is thrilled that Tyrone Lawless is part of the team here at our hair salon in Purley.
With a wealth of experience and an eye for artistic hair design, Tyrone uses his expertise to create your perfect look.
Shades Hair Founder, Ruth Langford, said:
"We're so happy to have Tyrone at Shades Hair.
He's quickly become a popular member of the Shades Hair family and we hope his business continues to go from strength to strength."
Contact Tyrone NOW to book your appointment on 020 8668 3920.